Originated from aNatural Spring in the Swiss Alps
SwissMountain mineral water rises up through the Valais Alps.Deep inside the mountains, the water is naturally purified and enriched with minerals, which givesthis absolutely natural product its unique flavour.
More about "The Spring"…
The spring is fed by a high Alpine reservoir, which is the main source of Europe's water, and is located 60 metres below ground, well-protected by the earth's soil and sedimentation dating back to the last ice age.
After many years of natural filtration, the water contains a balanced mineral content and is entirely free of any microbiological contamination and industrial or agricultural pollution.
SwissMountain is protected from outside influences.
The spring water filters through the glacier-topped mountains of the Swiss Alps. During its long journey through loose rock and gravel deposits from the last ice age, the water takes on it very own character that can be tasted in every drop.
Where to Buy
Microbiological purity
After many years of natural filtration through numerous rock layers, and protected by high Alpine mountains and glaciers, the water attains a microbiological purity of the highest standards. With the addition of oxygen, and flowing through a quartz sand, the natural iron content in the water is removed. The practical zero levels of nitrate and uranium is an indication of the purity of this natural mineral water.
The pleasure of drinking SwissMountain "Natural"
Our crystal clear still water is an ideal thirst quencher which activates many sensory receptors in the mouth. The salty calcium and magnesium content can be savoured, with a finish characterized by a light sulfate taste combined with the remarkable note of the minerals.
Not suitable for babies/infants due to Sulphate levels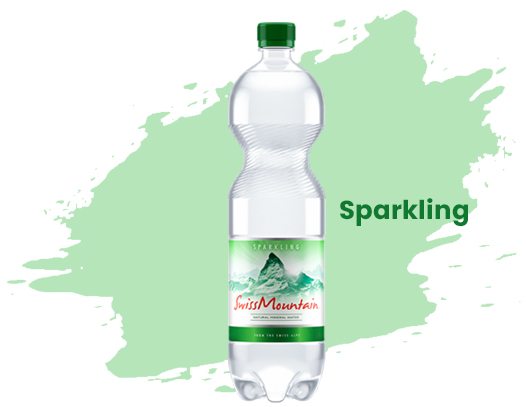 The pleasure of drinking SwissMountain "Sparkling"
Water has a refreshing sensation; there is a light effervescence on the tongue, and the taste is defined by a discrete fruity finish.
Microbes do not servive in sparkling water because the dissolved carbon dioxide makes it acid. The carbonic acid that gives sparkling water its effervescence is a mild antiseptic (Finewater, M. Mascha)
Carbonated water has benefits for digestion. It may improve swallowing, increase feelings of fullness and reduce constipation.
SwissMountain contains max. 8.2 grams per liter CO2 at the time of bottle
The difference between Club Soda, Seltzer and Sparkling mineral water