Since 1461, a safe choice for good health and vitality!
SwissMountain – The King of Mineral Waters, originates at the village of "Bad Knutwil" in Switzerland's Alpine foothills ("Bad" meaning "Bath or SPA" in German language). Millions of years ago, this area was actually a glacier which over time transformed into a natural filter of rock and clay layers. Over the next thousands of years, the SwissMountain source emerged and was finally discovered in 1461.
1461
At that time, spa guests would drink the water against various illnesses or lie down in wooden "sweat baths" (today called saunas).
Until 1947
The "mud" of the SwissMountain source was still used in the "Hospital of Lucerne" (a main city in the region) for treatments and curing rheumatic diseases.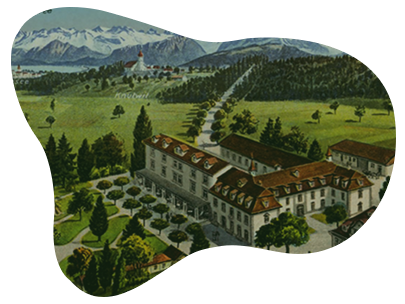 1786
From the 18th century until 1926, a lively 'cure and spa' business existed in the large hotel and park complexes there.
1986 – today
In recent times, SwissMountain, is the only mineral water bottled at source in central Switzerland.