Company Overview and Corporate Guidance
SwissMountain mineral water stands for confidence, premium quality, naturalness, freshness, purity, elegance and reliability—a classic and very traditional product.

SwissMountain Beverages International LLC is domiciled in the canton of Zug, Switzerland. The brand is bottled in the heart of the Swiss Alps in the village of Termen (near the resort of Zermatt) by Pearlwater – a division of Swiss COOP, a major Swiss retail chain.
MISSION, VISION & VALUES
OUR MISSION
Improving consumer health through value-added, non-sugar beverages "Made in Switzerland". This includes new products such as:
OUR VISION
Become one of the preferred premium mineral water brands in selected (mature or growing) imported bottled water markets worldwide. (Swiss COOP's equivalent domestic brand is already enjoying one of the highest market shares in the domestic market).
OUR VALUES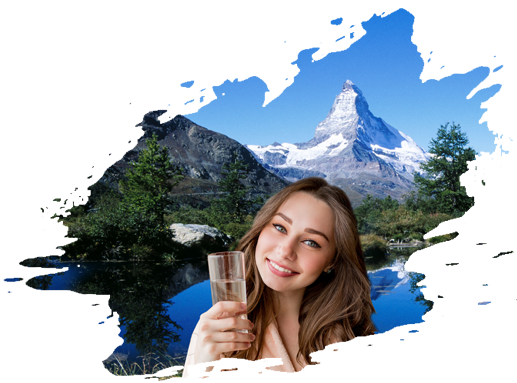 HEALTH & PLEASURE
SwissMountain is all about "Health & Pleasure", providing a positive health and social experience to consumers is our ultimate goal.
SUSTAINABILITY
SwissMountain is an ecological and socially responsible company. The brand is bottled in partnership with Swiss COOP, a multi-billion dollar retail chain with impeccable standards and values.
For instance, the plant has recently reduced the weight of PET bottles (saving ca. 700 tons/annum) and strives to minimize carbon footprint through effective control of the supply chain from production to delivery.
PASSION FOR QUALITY
The "Made in Switzerland" connotation is never compromised. All products are made under highest quality and safety standards.